Florida Log Homes, Cypress Log Homes, Log Home Engineering,
Blueprints and More From Lake City Florida

Our Log Home Company supplies nothing but Premium, Cypress Log Homes, and Cypress Log Cabins
A Log Home Company with over 30 years experience and all Five Star Ratings
Doesn't your family deserve the best wood money can buy?
What if you can get Cypress for the same price as normal cheap pine?
Find out why Cypress is called "Nature's Perfect Wood"
Log Homes Cypress will last for generations giving you peace of mind and less maintenance.
Contact us now and we can turn your Log Home Cabin dreams into reality.
We can meet at your home location and or at your building site. Need a Log Home Builder? No problem we can help
For the do it yourself builder we offer Log Home Kits in Florida.
No Sales Hype or pressure here, we simply educate you. Allowing you to make the best decision for your family.
Be sure to listen to our short one minute greeting below.
Please note; Due to the Covid, we are working more from remote locations.
This gives us a slight delay on the phone switchboard and the return calls.
But the great news is we're getting better each day and still taking calls seven days a week.
We strive to take all the necessary measures to keep our staff and customers safe. We are offering free onsite visits.
We'll be happy to visit your property and spend all the time you require.
Nature's Perfect Wood Cypress
The Log Home Guys aka "LHG" provide complete full-service "Cypress Log Homes", Cypress Log Cabins, and Cypress Log Cabin Kits for Sale. Free custom design and complete engineered blueprints.
We offer "Lake City Florida Cypress Log Homes", "Heart-Cut Cypress Log Homes", also referred as "Tidewater Red Cypress", Bald Cypress, Gulf Cypress, Swamp Cypress and Southern Cypress. We can also provide Florida Log Homes for sale. Now you can get what you want at one source. LHG's offers a very special unique service. We can do, original log cabin homes that mimic the log homes built in the 1800s. Then we can hand hewn the wood just like the settlers did in that early time period. Every log will be one of a kind. Once that's complete, we can stress the wood to give that old-time finish. Now you can have that 1800 century log home look but with new cypress logs. We build old-world, Florida cracker architecture style log homes as well. 
Visit our Log Home Photos for great idea's, showcasing "Log Cabin Kits Florida" to Large "Luxury Log Homes".

Our focus is on Log Homes Cypress and you. Let us help and be part of your dream log home. Did you know that cypress log cabins are extremely energy efficient and safer in storms? Find out why.
Visit Our Free Log Home Floor Plans and Log Cabin Floor Plans
We are the buyer's top internet search for Log Homes for Sale in Florida and Log Cabins for Sale in Florida. Visit us in Lake City, Florida
See what we have to offer, and let us go to work for you.
If your looking for the best wood available for building your dream log home and or log cabin, then Heart-Cut Cypress can't be beaten. Cypress Log Homes will give you a chemical-free log home material with less maintenance, resistance from decay, and insects that will last your family for generations.
Log Home Guys is a top provider of Heart-Cut, log homes Cypress and cypress log cabin homes. Start by calling us now to help answer all your questions. We will earn your business and look forward to helping you achieve your dream log home. 
If your looking for the best wood available for building your dream log home and or log cabin, then Heart-Cut Cypress can't be beat. Cypress Log Homes will give you a chemical free log home material with less maintenance, resistance from decay and insects that will last your family for generations.
Log Home Guys is a top provider of Heart-Cut, log homesCypress and cypress log cabin kits. Start with calling us now to help answer all your questions. We will earn your business and look forward helping you achieve your dream log home. 
Why We Are Different
Our Prices are refreshingly low
No 

sales staff, no paid commissions

No catalogs or hyped up brochures
No 

multiple model centers in different states on prime commercial highway frontage.

No multiple log home trade shows
No ads in numerous log home magazines
No dealers
No free airline tickets to visit
No free log home seminars with buffet dinners
No big bloated payroll
No sales gimmicks that insult your intelligence like free garage or 16 units left, act today
Who do you think pays for all that? That's right, it's you the customer, which inflates the prices on every package of Log Home Materials sold. We're happy to meet on your build site, visit you at your home and to schedule a personal tour of our log homes under construction.
Call us to schedule your personal meeting. We will spent all the time you need.
See if the other companies will do that.
LHG's success relies on utilizing old fashion word of mouth, customer referrals, and trust. The way our fathers did before us. This allows more savings to be passed on to you.

An Old Fashion Log Home Company with Old Time Values

Our goals are simply to;
Give you the best log home materials available at the lowest possible price.
Engineer the strongest home for Hurricane Wind-loads and Storms. 
We exceed what is required by Building & Zoning Department Codes at no additional cost to you. Your family's safety is important to us. We'll always put you the customer first.
Our Mission Statement;

"To supply the best materials in the industry and to supply the best customer service, before and after the sale. We treat our customers like family."

We apply these standards to our daily business serving you our customers.
Engineered Stamped Log Home Blueprints
We specialize in, Log HomesCypress for Sale in Florida, and "Cypress Log Cabins for Sale" in Florida. We understand every States building codes and know what each local County Building & Zoning Department requires. Being a Florida company we not only understand Hurricane wind loads and storms, we design to exceed what's required. Simply we make your home stronger than any other company, at no additional cost. This is where other companies fail, structural wind load designs for Hurricane's is the most important issue for your family. Don't hire a company that's not based out of Florida. We will visit your build site property and personally call each county building department before we start. Every home will include Engineered Stamped Log Home Blueprints which are required for  Fl. Log Homes. We also service Georgia, North Carolina, Tennessee, Texas and more.
Our #1 Best Selling Designs
Visit our "# Log Homes Photo Gallery" to see some of our best designs. Great weekend get-away's to breathtaking "# luxury log homes" designs. We can incorporate any of the features you like into your very own floor plans.
"We love custom work," and the best part is your custom log home design is absolutely free. Don't settle for cookie-cutter designs, make it your unique dream home.
So what are you waiting for? Let's get started. From the RiverBend to the Shenandoah or the Madison, our team is here for you. Click to view our" Log Home Photos Gallery"and get your creative juices flowing.
Log Home Guys produces the best Log Home Packages and Log Home materials available in the industry. We love Log Homes Florida. We have extremely large, Luxury Log Homes that we can provide upon request. Let us help you design your personal, Log Home Floor Plans.
"Way down upon the Suwannee River" as composed by the great Steven Foster, nestled in North Florida with many great landmarks is the home of LHG. Frozen in time, blessed in the Florida sunshine stands a log home company made of true old-time values. We do business the way our fathers did with trust and honor. We promise to do what it takes to earn your business and always be there to answer your questions. Seven days a week.
Plan a trip to spend time with us, and will work hard to answer all your questions and achieve your goals. If you like music and camping visit Spirit of the Suwannee Music Park & Campground.
Step back in time and have a down-home visit with Log *Home Guys, a contractor of "Florida Log Cabin Homes". Whether you're planning to build a Florida Log Homes,  Georgia Log Homes or travel all the way to the magnificent mountains of North Carolina or Tennessee. Florida Log Home Guys is the nationwide, original log cabin homes company. A thrift log homes favorite on southland log homes. From a simple Florida cracker log home cabin to an elite magnificent mountain log home, look no further than Log Home Guys. We offer, log homes cypress for sale in Florida, and abroad. Loghomes are the "American Dream." Come see our Log Homes Cypress Florida. We sell Georgia Log Homes complete with Georgia Log Home Engineering for the entire state. So if you're thinking about building a Georgia Log Home in the mountains, on a lakefront, or anywhere in Georgia, we're your peach of a company. We sell North Carolina Log Homes, and we sell Tennessee Log Homes with complete engineered blueprints. We work in most areas, just give us a call to find out more.
American Owned American Made Product
When you invest with us your buying from a small town company where a handshake is a man's bond. When you buy from us your helping a child go to dancing lessons, getting a set of braces or helping get their first dream car. You're investing in family and the American dream.
I'll challenge you to do the following.
Before you buy any new log home, call the company and state that you are looking to buy a new log home and would like to speak to the Owner or President of the company. See how many excuses you get just to have one conversation. They will tell you there out of town, in meetings or you need to talk to managers first. If it's that hard to have a simple conversation with the owner before you buy and they don't have your money yet. Then how hard is it going to be after they have your money? We guarantee that you will be able to call us and speak to the owner seven days a week. That's how important your business is to us!
Don't buy from an over-inflated mega box corporation where your just a number and customer service is nonexistent after the sale. Don't be fooled by the flash and glitter websites.
Don't be fooled by the 30%, 40% and 50% Discount Schemes

What about the "Free Garage Gimmick," No, No and No! Here's the best gimmick, "We purchased another company and have left-over packages that were never delivered at huge discounted rates or the customer never had the package delivered and you can get it cheaper due to they paid the deposit and walked away."  Factory Direct, Cypress Kings, Year End Sales, all forms of sales hype. Another New Gimmick, we just secured lumber after foreign buyer defaulted and are able to pass those huge savings directly to you. Or how about a blinking red sign stating only a limited amount of packages available, hurry before you miss out.. 

 

Here's the definition of gimmick, scheme, and or sales ploy
A trick intended to attract attention, business and rush the customer into an impulse buy.
Let face it, no business can give away that much discount unless they are marking up the materials up front. There's no such thing as a free garage, someone has to pay for those materials and believe me it's you. Any company that has a pre-published price list has inflated the materials cost to cover all the unknowns. Example: Let's say the company allows you to go on a layaway plan or to lock in your price for 1 to 2 years. They have raised the package cost to cover future materials price increases buy as much as 25%. How does the company know the true shipping cost of future customers? They don't, one customer might be in Florida and other in California. So guess what, you pay the worst case scenario. These is just the tip of the iceberg, there's many more. These tactics just keep inflating your number higher and higher. A pre-published price list benefits the company not you.
At LHG we want to help you get your dream home at the lowest possible cost, so we don't play the industry big box games. We have found that by spending the extra time to ask our customers all the proper questions. Pricing each Log Home for when, where and how it's going to be built. We don't have to overcharge our customers. Now that you've been educated on the over-inflated price list and sales gimmicks you can make a better decisions moving forward.
We Support The Armed Forces, Law Enforcement & Firefighter's
Words cannot truly express how thankful we are for the sacrifices our great men and women of the nations armed forces who serve selflessly for this country. Putting their lives on the line in defense of freedom and security. So that we may live in peace, we salute you Great Americans. We are proud to offer a special log home discount to Veterans, Law Enforcement and Firefighters. Just let us know before we quote, and it's just that easy.
We can help with "Florida Log Home Staining", Florida Log Home Repairs, Log Home sealing, Log Home Restoration, log Home Additions, Log home Garages, Florida Log Home Inspections from a Real Florida Company
As a log home company we can show how to maintain your beautiful home. We will spend the time to answer all your questions absolutely free. If you have an existing log home from any manufacture that needs a little help and want it to look like brand new, we can quote all log home repairs. As a  log home restoration companies we recommend the use of Perma-Chink Log home Stain LIFELINE ULTRA-2, Lifeline Advance Clear Top Coat with Energy Seal for all our log homes. We use Energy Sea Log Caulk and Log Boss fasteners supplied by Perma-Chink Systems Inc. in all our homes. Call us today for a "Florida Log Home Staining", Chinking, Exterior Cleaning, Energy Sealing, "Florida Log Home Repair "and Log Home repair Florida quotes. We are "Florida Log Home Staining Contractors" that specialize in log home restoration. We make log homes beautiful. Also offering yearly maintenance programs. The advantages of using Log Home Guys for Log Home Staining and Log Homes Restoration is we don't only do just log home stain or log home restoration. We are the manufacture and understand complete log home repairs, which means your replacement wood will be much cheaper because we already have in stock. This means your getting a builder that understands from ground how to repair and make brand new. Not a painter that just wants to splash stain and cover up bad wood. We fix log homes, to be as good as new. And the best part is we fix and correct the issue, teaching you how to prevent so that your not having to do again.
Call us now, will take all calls until 9:00 PM EST.
Finally, a company that will work to your schedule and puts the customer first.
Note: All photo's, Log Home Photos, media and or information provided on this site are not to be copied and or used without prior written consent from Log Home Guys.
Log Homes Florida, Log Homes Georgia are us! Schedule an appointment we'll come to you. We deliver log homes nationwide. Ask us about log home builders and log home construction. We supply log home additions, log home garages, cypress horse stables and cypress log horse barns. Call us now for your free log home pricing quote. We love log home living and the log cabin lifestyle. We design Florida Cracker Style Log Homes.
Let us design your Florida Log Cabin Kit Home.
"Log Home Builders, Log Home Contractors & Log Home Owner Builders"
Visit our "Log Home Construction Page" to see a turnkey log home being built in 100 days from start to finish. This is a must-see for anyone planning to build a log house structure. This was designed to be a valuable tool for the customer outlining and understanding all the steps in building log homes or cabins made from logs..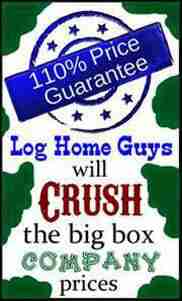 Customer Service And Your Time Is Very Important To Us.
We not only answer phone calls during normal business hours, we'll answer your calls every day of the week up until 9:00 PM Eastern Standard time.
We'll Answer
So What Are You Waiting For ?
Call Us Now
If you have read this entire page and our morals and values line up with yours, then give us a chance to earn your business.

"I promise to give you the best customer service, best log home wood available at the lowest possible price." I'm never too busy to talk to every customer, ask for me direct. I'll even call you after regular business hours if it helps with your schedule.

Bill Mathews
Owner & Founder of Log Home Guys 

To show you how serious we are to earn your business here's my personal cell phone number 386-697-1357
We will quote any log home floor plans, Internet log home plans, competitors log drawings, blueprint, renderings and hand sketches. 
Let us design your Florida Log Cabins. Our 
Luxury Log Homes provide great comfort for the extravagant lifestyle you deserve.
We Offer Premium True Southern Heart Cut Cypress Logs Homes and Cypress Log Cabins Don't be fooled by competitors offering Cypress logs that are not Heart Cut logs. They will say they are, but let us show you the true difference and why it's important to you.
Call us now to find out more.
Schedule an appointment to visit
our Florida Log Cabin Homes
We are a true Florida Log Home Company. Not a satellight company from out of State LHG's Interactive WordPress Blog Page Visit Blog
We're proud to have Award Winning Log Home Floor Plans and Luxury Log Homes as Featured in
Log Home Living and many more.